Discover what all-round capability really means
The perfect blend of performance and economy with stunning features designed to revolutionize your riding; sports or touring experience.
The latest generation 1812cc (210hp) engine with high pressure pump and intelligent electronic throttle control delivers powerful yet economical performance.  The elegant hull shape with the unique lightweight NanoXcel material and the intuitive new RiDE system, promise the most comfortable, stable, precise handling you'll ever experience on a jet bike.
Additional features like 'No Wake' mode and 'Cruise Assist', luxury seating for 3, large swim platform, practical re-boarding handles and ladder and plenty of storage space, the list goes on.
Want to find out more?
---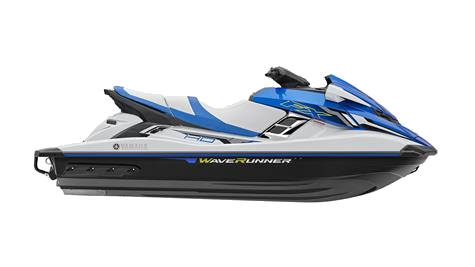 See all images
Specifications
---
General

Starting at
£14,199
RIDER CAPACITY
1-3 PERSONS
FUEL CAPACITY
70 Litres
0 - 30 mph (est.)
1.8 seconds
CRUISING SPEED (est.)
32 mph
RANGE (est.)
110 miles
WARRANTY
24 months
Full
Hull + Deck Specifications

Engine Type: HO 1822cc
Length: 3.56 m
Width: 1.23 m
Height: 1.23 m
Weight: 376 kg
Fuel Capacity: 70 l
Storage Capacity: 125.5 l
Rider Capacity: 1-3 persons

Engine Specifications

Reverse: In RiDE with Traction
RiDE: Yes
Electronic Throttle (Cruise Assist, No Wake Mode): Yes
Remote Transmitter, Security & Low RPM Mode: Yes
Reverse: Yes

Features

Analog Meter (Tacho / Speed): Yes
Hydro Turfmats: 2-Tone
NanoXcel Hull & Deck: Yes
Two Piece Seat: Yes
Tow Hook: Yes
Re-Boarding Step: Yes
Electronic Bilge System: Yes
Automatic Bilge System: Yes
Dual Grab Handles at Stern: Yes
Adjustable / Tilt Steering: Yes
Convex Dual Mirrors: Yes
Multifunction Information Centre: Yes
Fast Access Instrumentation Button: Yes
Watertight Storage: Yes
Beverage Holder on Dash: Yes
Fast Access Stern Storage: Yes
Glove Box: Yes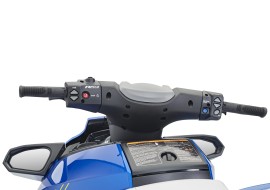 RiDE SYSTEM
The revolutionary RiDE system transforms your riding pleasure, bringing a remarkable feeling of confidence to every rider at every level. Simply pull the throttle lever on the right hand-grip to move forward and accelerate - pull the lever on the left grip to slow down or reverse. Yes, it's really that simple!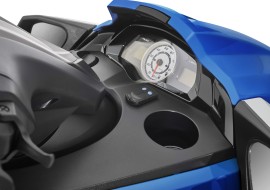 REMOTE SECURITY
This innovative system is an industry first for Yamaha. One click on the remote transmitter button engages a special "L" mode (Low RPM) to limit top speed; ideal for controlled manoeuvring. For your security and peace of mind, pushing a second button disables the ignition, preventing an accidental start-up or any unauthorized joyriders.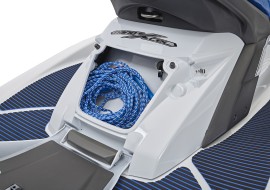 PRACTICAL FEATURES
From the 4 step, tilt adjustable steering to the comfortable two-tone, 3 person seating and from the large, extended swim platform to the deep step and twin handles for re-boarding, the FX HO sets ever higher standards for your enjoyment of the water.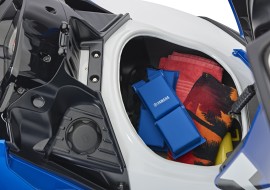 GREATER STORAGE
Yamaha have taken great care to design plenty of storage into their world-beating FX Series models, so your adventures can be longer and take you further. There's a watertight compartment on the dash panel (along with dual bottle holders) generous under seat storage and more easy access storage at the stern.