Playful, Fun & Affordable
Introducing the innovative Yamaha EX Sport, for people who want maximum reliability and sheer on-water fun, in an agile machine that's both versatile and easy to handle.
The new EX Series has been designed with all the reliability and technical innovation for which Yamaha WaveRunners are legendary, but with a no-frills approach that delivers remarkable affordability. For water sports, this EX Sport is certainly the one to choose.
It has our famously smooth, reliable, economical power, plus everything needed to get you on the water in style – clear informative instrumentation, mechanical reverse, dual mirrors, re-boarding step and handle, a tow hook and generous storage.
Want to find out more?
---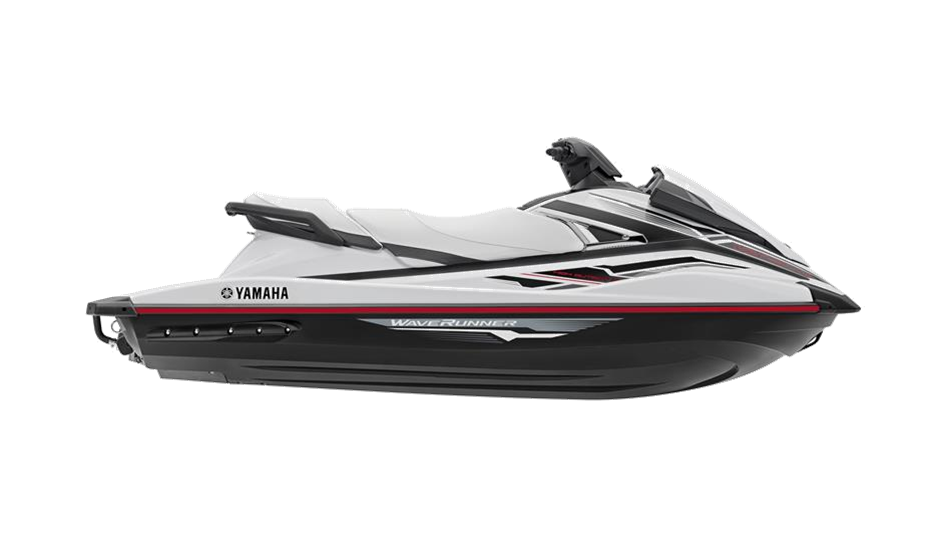 See all images
Specifications
---
General

Starting at
£7,449
RIDER CAPACITY
1-3 Persons
FUEL CAPACITY
50 Litres
0 - 30 mph (est.)
2.3 Seconds
CRUISING SPEED (est.)
31 mph
Range (est.)
168 miles
WARRANTY
24 months
Full
Hull + Deck Specifications

Engine Type: TR-1 High Output 1,049cc
Length: 3.14 m
Width: 1.13 m
Height: 1.15 m
Weight: 265 kg
Fuel Capacity: 50 l
Storage Capacity: 37.8 l
Rider Capacity: 1-3 persons

Engine Specifications

Reverse: Mechanical with Traction

Features

Hydro Turfmats: Yes
Tow Hook: Yes
Re-Boarding Step: Yes
Automatic Bilge System: Yes
Dual Grab Handles at Stern: Yes
Convex Dual Mirrors: Yes
Multifunction Information Centre: Yes
Fast Access Instrumentation Button: Yes
Glove Box: Yes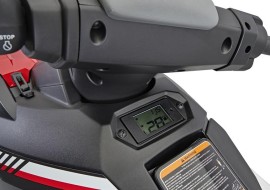 LCD INSTRUMENTS
Great-looking multi-function LCD instruments mounted in a stylish cockpit panel are not something you might expect on such a keenly priced, affordable watercraft - but you'll find them on the new EX Sport. It offers clear, easy-to-read Speedometer and Tachometer displays, as well as informative readouts for Fuel Level and Hours Run.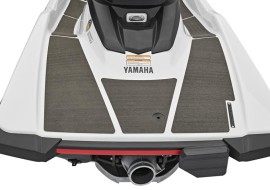 HYPERFLOW JET PUMP
Exhilarating handling and exciting performance have long been hallmarks of the Yamaha WaveRunner. The instant 'bite' on the water and acceleration are made possible by a combination of a high-flow intake, Hyper-Flow high-pressure jet pump and a stainless steel impeller, which runs within a precision-engineered housing.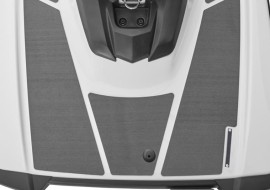 GRAPHICS & STYLING
The EX models don't just bring you the most affordable watercraft adventures, they look good when they're doing it too! The bold colours and striking graphics are up-to-the-minute so you're sure to get admiring glances as you blast along the shoreline or glide into the dock. On a new Yamaha EX Sport you can ride with pride!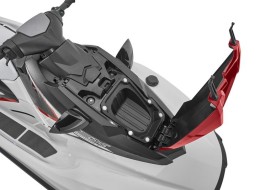 GREAT STORAGE
The EX Sport not only has a wet storage area in the bow, but a handy Glove Box and a spacious storage area under the lift-up seat. What's more, when you're towing a toy, skier or wakeboarder - using the standard towing eye - the dual mirrors, Hydro-Turf mats and helpful re-boarding step.