If you are looking for a complete package it is important to give some thought not only to your current but also to your future boating needs. We often make these decisions only to find out, some time later, that our needs have changed. It is therefore a good idea to take guidance from the professionals and get a boat that will meet your needs over a decent period of time.
First, lets think about your location. If you're planning to keep your boat some distance away from where you live, you will have quite a wide range of options but your time on the water may be limited by the need to travel so something that is easy to get on board and set up for a days boating would be a sensible move.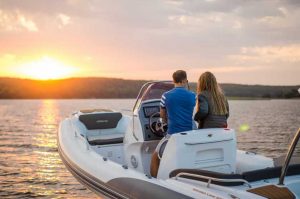 How do you want to use your new boat? Do you plan on fishing, sailing or motor boating? Might you fancy some wakeboarding or water-skiing? Perhaps you just want to take the family for picnics and anchor off a beach or entertain friends and colleagues occasionally? You will probably want a boat that can do a number of things so it's worth taking the time to work this out beforehand.
Will you trailer your boat to the water or use a permanent mooring? Will the boat be on a pontoon or swinging mooring?
Where to keep your boat during the off-season may also be a consideration. You might decide to leave it afloat but having invested a considerable amount of money you may feel it will be best to have a local boat yard take care of it during the winter months.
It's always a great idea to take a look at the type of boats that are most common in the area you intend to use your new boat and where possible talk to other boat owners. You can of course choose a boat that's different, but do your homework and be sure of the reasons for making your decision.
Do you want a day-boat or might you be intending to venture further afield? Choose a boat that is safe and can be used in the area's normal conditions. Some boats are designed to power or sail safely through large waves without difficulty; others are at their best in sheltered bays and inland waters.
How much experience do you and other potential crew members have? Keep this in mind when choosing a boat for the location you will be in. If you are new to the challenges of Skippering your own boat, search out some local shore based, or online courses and at least complete an RYA Day Skipper or if you are feeling more adventurous a Yachtmaster course. This, together with a little experience will almost certainly enhance your ability and enjoyment. Whatever you choose be sure that you can handle the boat in the conditions wherever you hope to use it.
Whatever you choose, at Brighton Boat Sales we are passionate about helping every step of the way and beyond; no request is too big or too small!